Lake Flato Architects and Looney & Associates Head Back to School for This Austin Center
In the 38 years since Interior Design Hall of Fame members David Lake and Ted Flato founded Lake Flato Architects, the practice has tackled every type of project under the Texas sun and beyond. Hotels and restaurants, schools and libraries, museums, a courthouse, wineries, and cool, enviable houses, invariably tied to the land. Yet the Holdsworth Center, a 173,000-square-foot, 15-building compound on 44 acres beside Lake Austin, was like nothing in the studio's firmament.
"The center is dedicated to developing excellence in leadership for principals and superintendents in the Texas public school system," explains Lake, who led the project with firm partner Chris Krajcer. It's part conference center, part hospitality facility, and part educational institution, yet also much more. "There's nothing like it in the U.S.," Lake acknowledges. In good part, that's because there is no one like its benefactor, Charles Butt, CEO of his family-owned H-E-B supermarket chain with some 300 stores throughout the Lone Star State and Mexico. Long passionate about public education, due in good part to his mother, Mary Elizabeth, a teacher and an advocate for social justice, the philanthropist named the center after her.
"It's complicated," Krajcer says when asked how Holdsworth works. Representatives from the state's school districts come to the retreat for a period of time to share ideas and glean knowledge from world-class consultants across business and educational arenas, all in the service of learning about "leadership in anything," Lake continues. "But we had to figure out what that meant."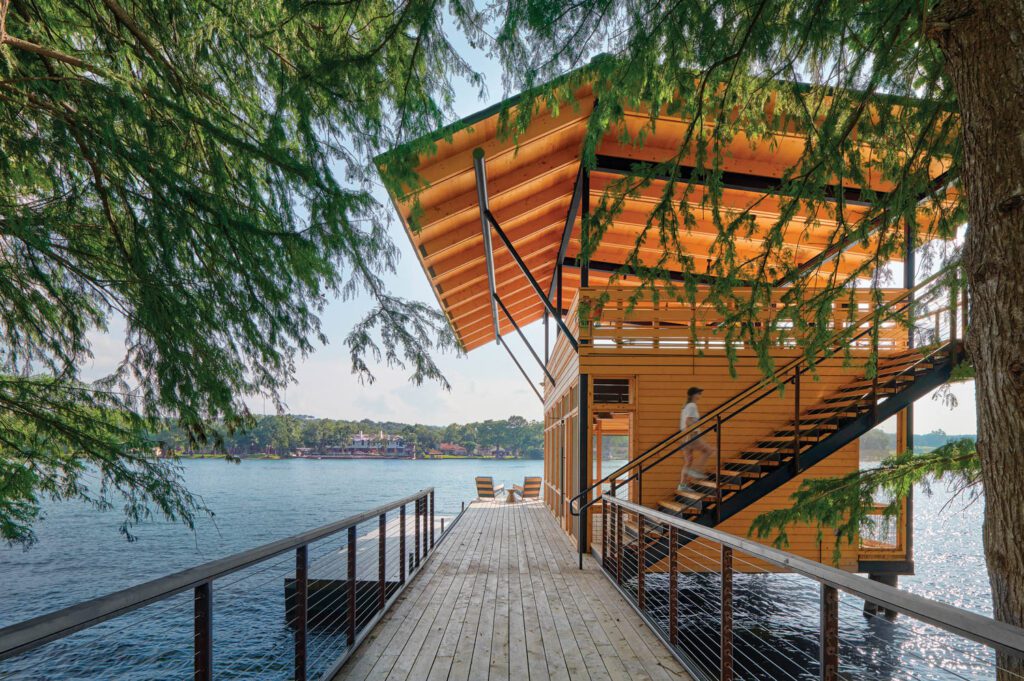 So, challenge number one was that the project had no program. Research in its development included visits to similarly uncorseted organizations, the Aspen Institute among them. "But they were built over time," Krajcer notes. "This was built in one fell swoop," including infrastructure for the grounds. The second challenge? Holdsworth, which had been operating in various places throughout Texas since its 2017 founding, had no site. For 2½ years, Lake, together with Butt, combed some 25 potential Austin locations, until they found the lakeside property.
The site obtained, the architects embarked on a year of programming and design followed by two of construction, all of which cost roughly $200 million. As for buildings and their typ­ologies, the team determined the following: four three-level hotel structures with 45 keys each; a trio of casitas, each containing two apartments to house VIP lecturers and families during their sabbaticals; and a two-level boathouse, with a screened alfresco classroom on the bottom and a social-breakout terrace on top. The V-shape main building, aka the Learning Center, has a full roster of function areas spanning two floors. Classrooms and seminar spaces occupy both, while the ground floor houses reception with a cozy library on one side. On the other, a pre-function zone inspired by hospitality design includes a standout bar capped by a wavy hemlock canopy and a servery with seating (there's a commercial kitchen in the back). All this is prologue to a vast event-dining space—dynamic, with a shaped ceiling and skylights, it can be divided in two.
Also populating the site are an amphitheater for outdoor classes, an administrative building, and a fitness center. And what campus doesn't have its own favorite bar? At Holdsworth, it's Charlies' Place, another freestanding building. The structures, which are interwoven with groves of heritage pecans and planted courtyards, "turn and tilt to the views," Krajcer says. All are linked by open paths and boardwalks—indoor-outdoor connection is key to the campus experience, so there's nary an enclosed corridor in sight.
As different as the buildings are in terms of purpose, they speak a common vernacular rooted in the Texas Hill Country. The language translates to exposed framing, shady overhangs, long porches, ceiling fans, asymmetrical gables reminiscent of barn structures, and a palette of wood and stone. Douglas fir forms roof decks while beams are cedar. Porch decking is Kebony, sustainably sourced Monterey pine that's had a bio-based liquid added to make it strong and rot-resistant. The live-edge reception desk is pecan from a tree felled locally. Local, too, is the limestone, quarried in Sisterdale, about 90 minutes away. "It's an old stone that doesn't feel precious," Lake notes.
Although Lake Flato has an interiors studio, Holdsworth's scope was too extensive for in-house completion. Jim Looney, CEO of his namesake Dallas firm, was the architects' natural choice for FF&E. "We had just finished the Lodge at Gulf State Park in Gulf Shores, Alabama," Looney says, referring to the two firms' first collaborative project. His bailiwick here was social hubs and hotel rooms, the latter being standard size and square, so beds could be oriented to views. "Exterior materials found their way into the rooms," he continues, "and our colors and tones supported the outdoor vistas." Inviting as the rooms are, they're designed to encourage guests to favor lounges with screened-in porches at the end of each floor. The scheme reinforces Holdsworth's philosophy of constant mixing and mingling. Or, as Looney says, "There's a higher purpose than just putting heads in beds."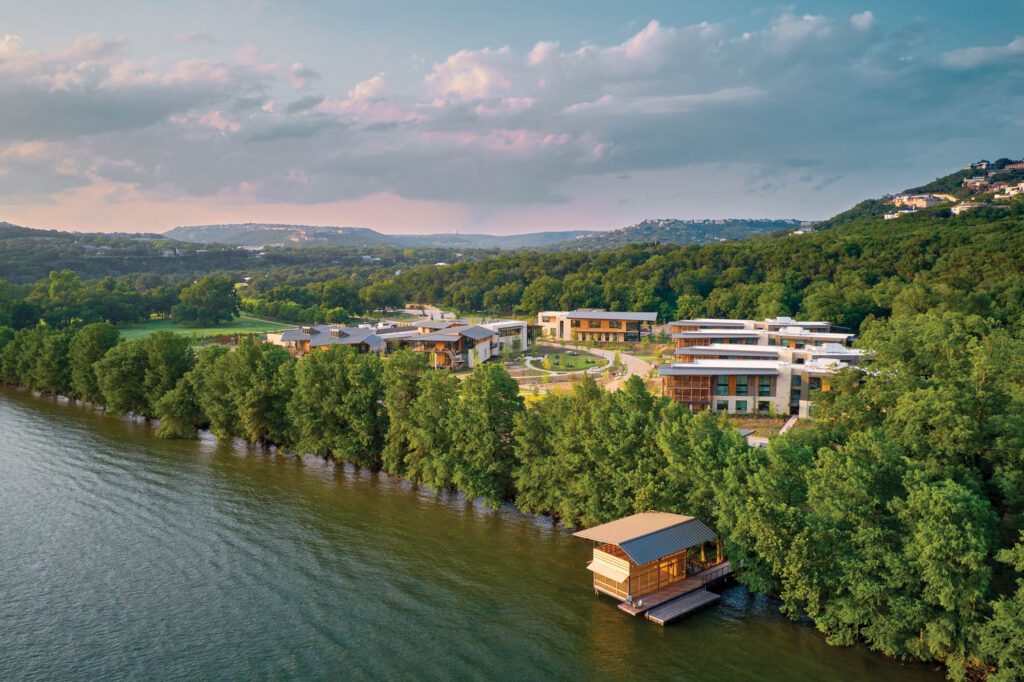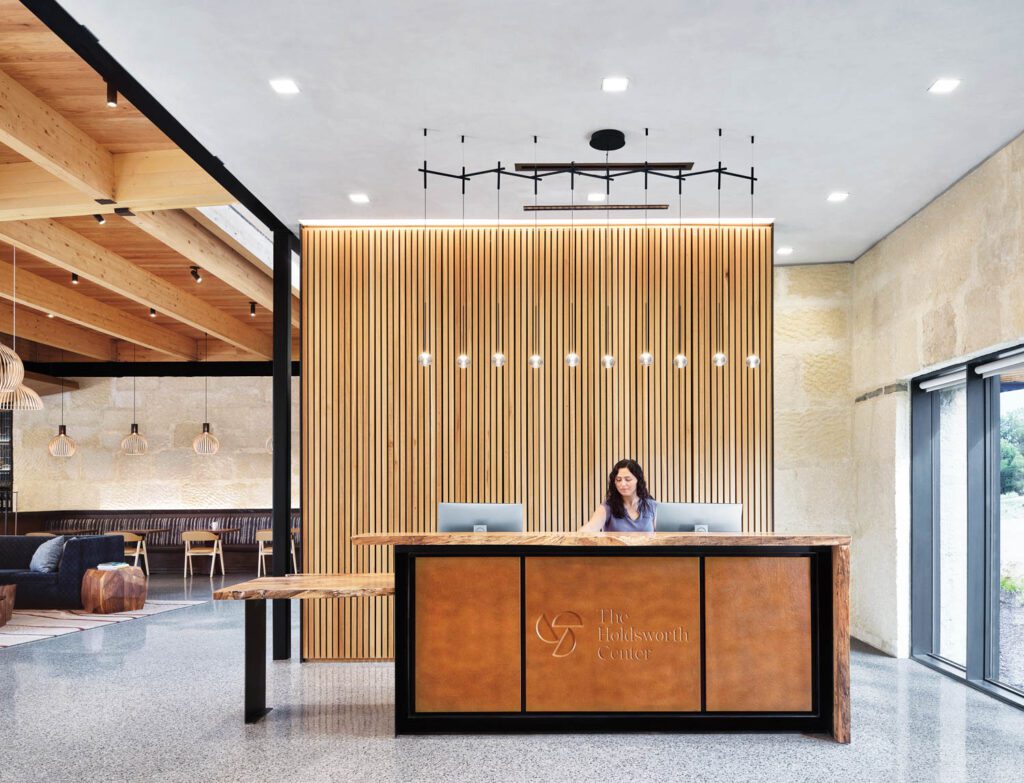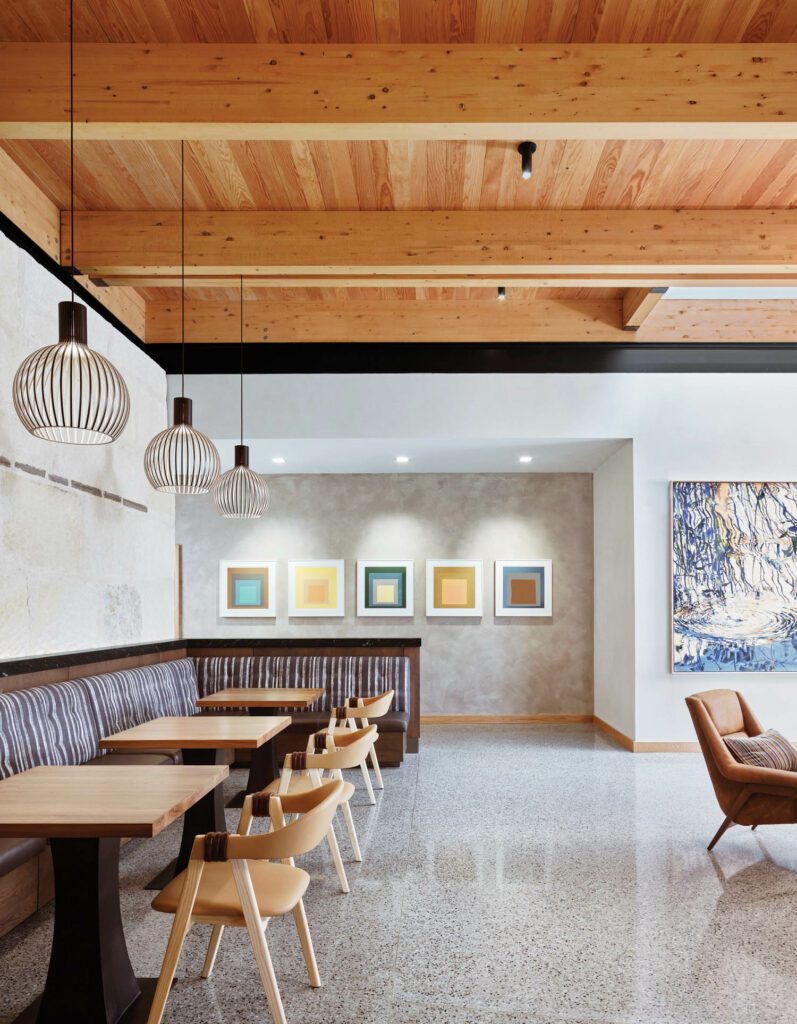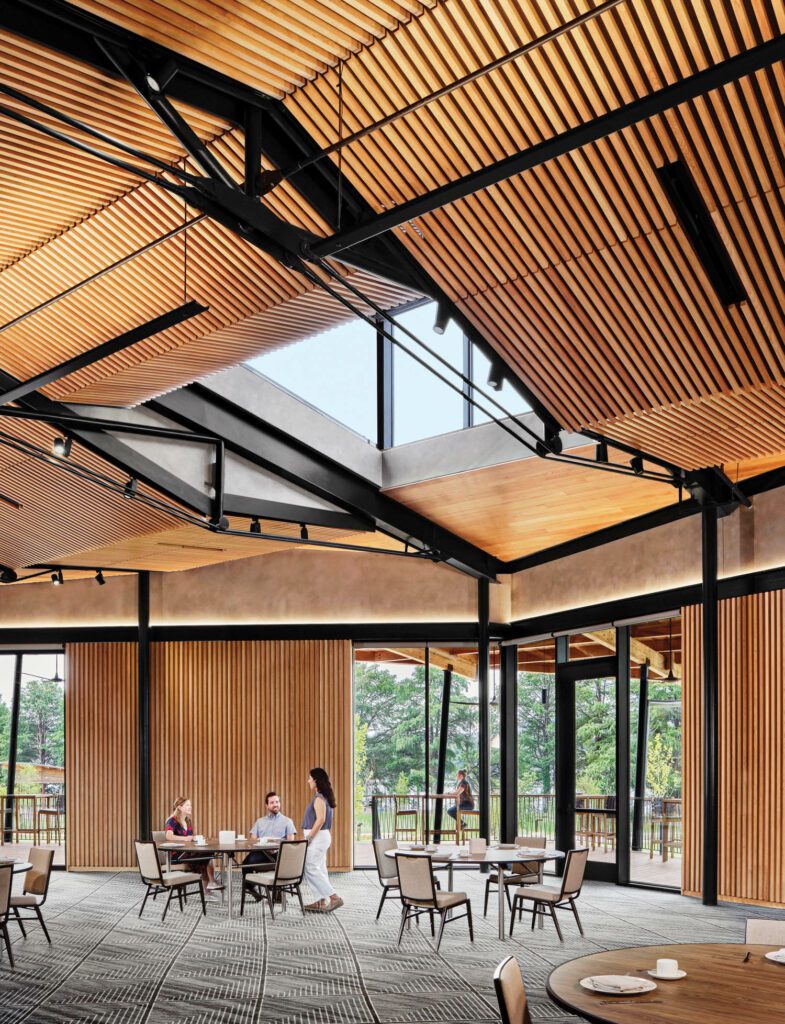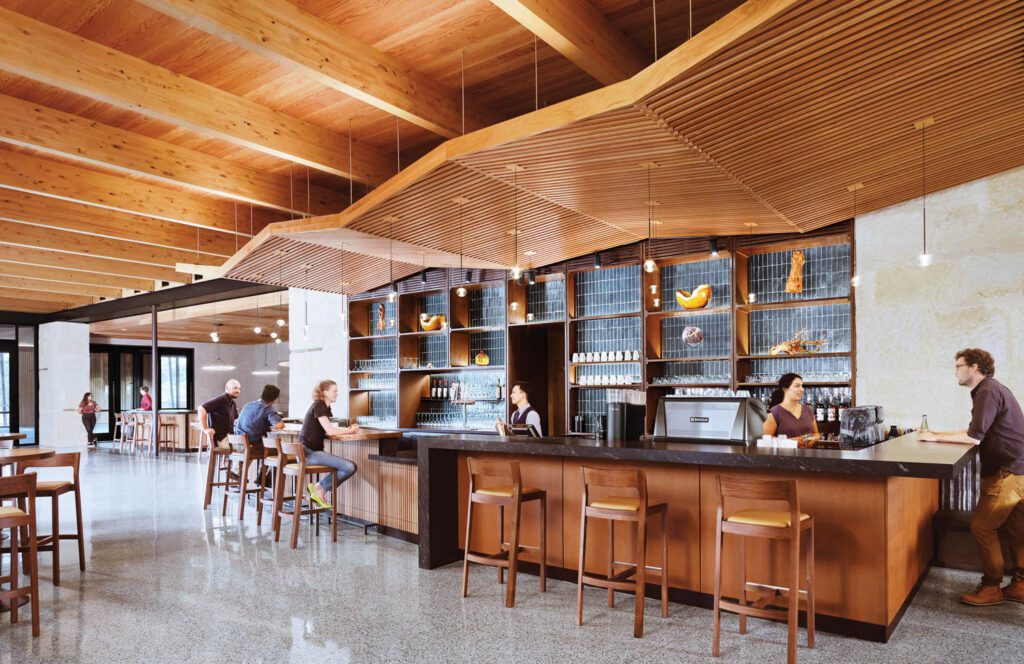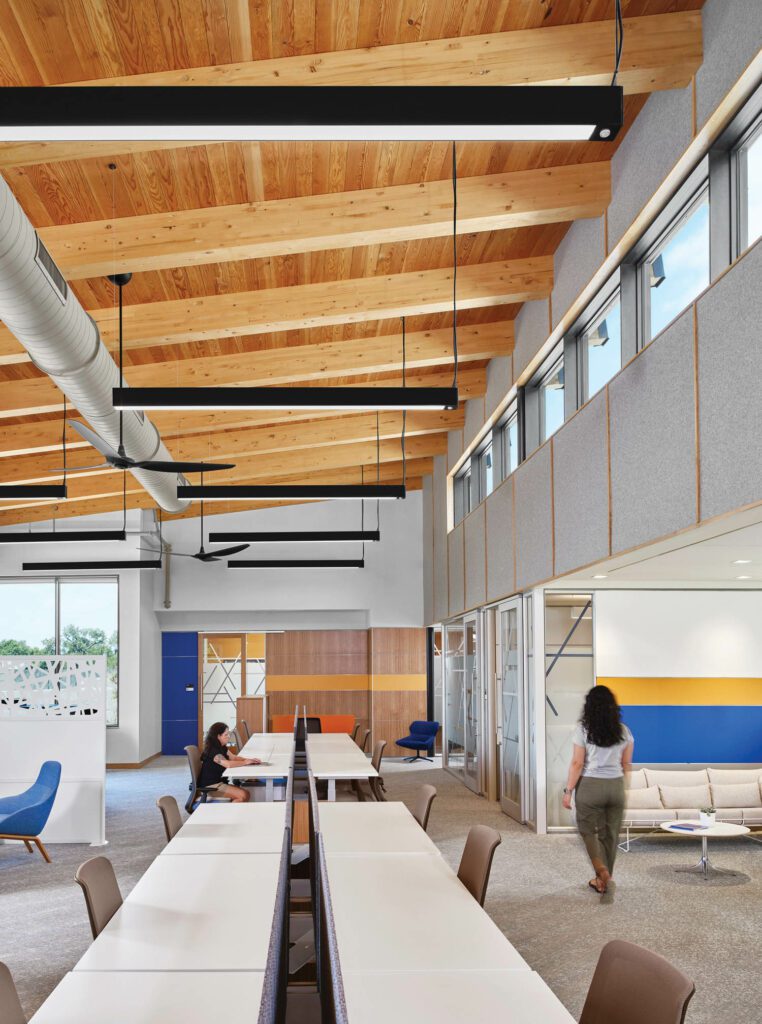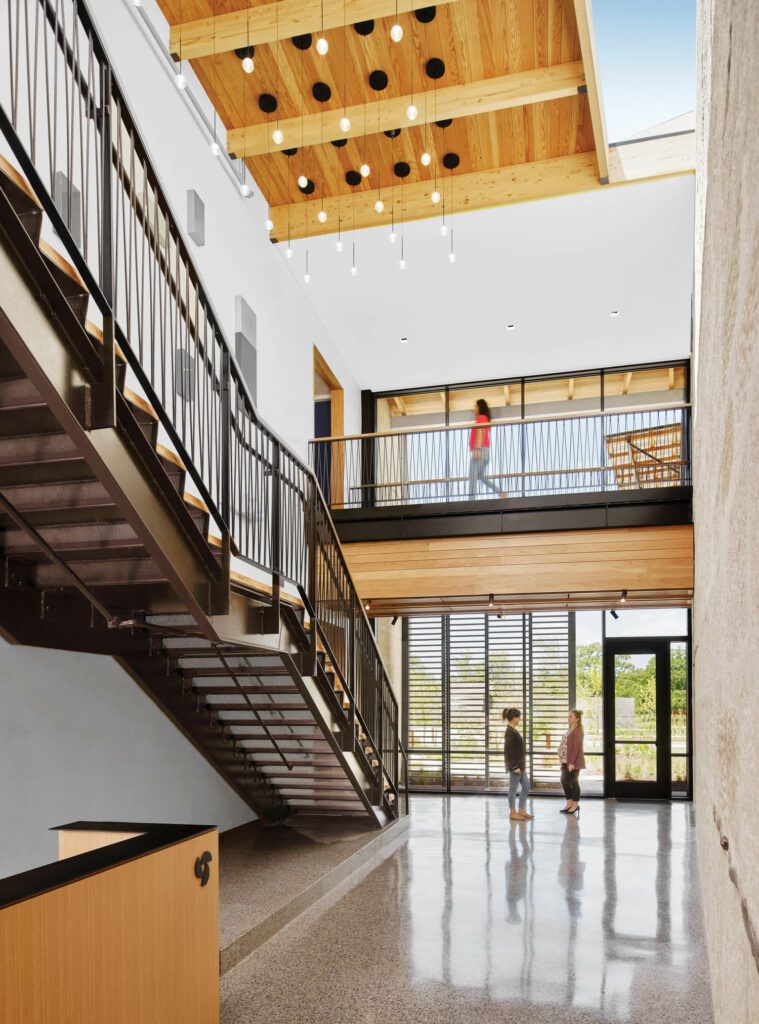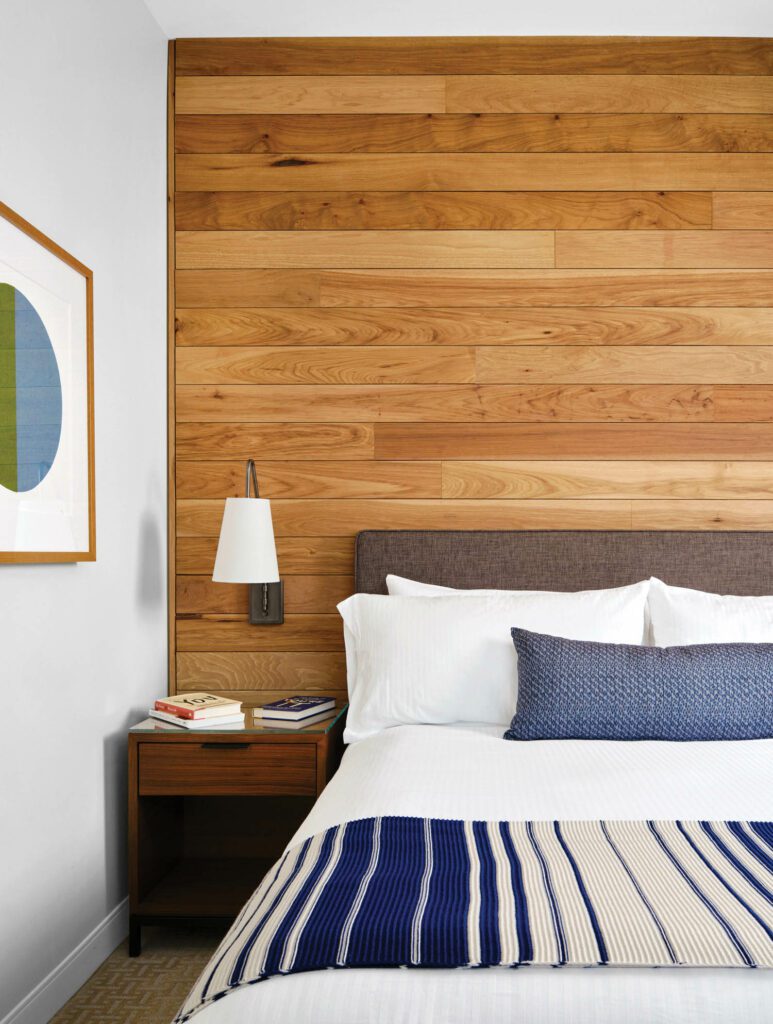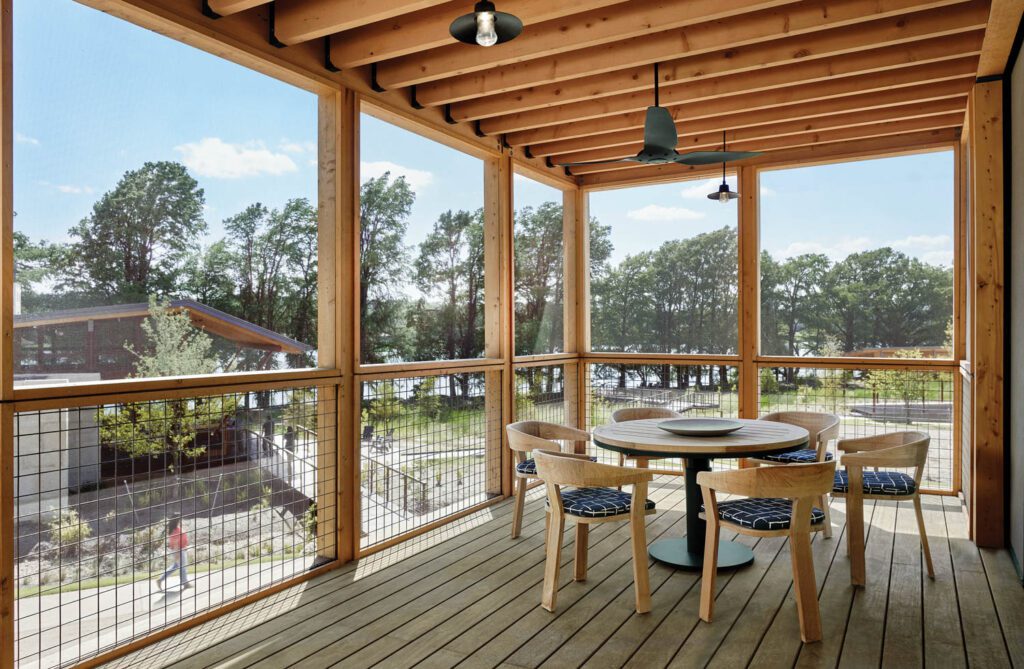 PROJECT TEAM
PRODUCT SOURCES
FROM FRONT